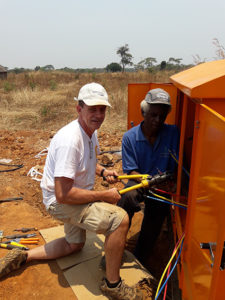 De stichting 'Give The Children of Mpongwe a Future' (GCMF, zie www.mpongwe.nl) bouwde het "George Korsten Vocational Training Center" in Mpongwe. Het centrum biedt lokale studenten de mogelijkheid om een diploma in organische landbouw, metselen of schrijnwerkerij te behalen.
Eenmaal voltooid zal het centrum plaats bieden aan 500 studenten. GCMF deed een beroep op Energy Assistance voor bijstand in het ontwerp, de planning en de installatie van het volledige elektriciteitssysteem. Dit systeem loopt van het nabij gelegen middenspanningsstation naar de stopcontacten en verlichtingspunten in het gebouw. '

In de loop van 2017 maakten EA en GCMF een inventaris op van de competenties en werd er een projectplan opgesteld. Het project team bestond uit EA vrijwilligers, een onderaannemer, een ervaren elektrieker in Zambia, 6 lokale studenten en 20 lokale arbeiders.
Tijdens de twee weken durende missie voltooiden de EA vrijwilligers en de lokale arbeidskrachten de aansluiting op het middenspanningsnet, installeerden ze de MS/LS ransformator en rustten ze de lokalen uit met stopcontacten en binnen- en buitenverlichting.
Vrijwilligers ter plaatste : Marcel Didden , Steff De Coster en Paul Heremans