The Douhar of Ifesfas is located at 1800m altitude on the foothills of the Atlas. Halfway between Marrakech and Agadir, it is an essentially agricultural and olive growing region.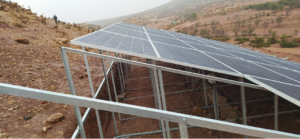 In this context, the Darna association, Brussels, called upon E.A. to supply the solar panels and to put into service the solar installation. This solar pump and its reservoir will allow the irrigation of market gardening land and orchards, which will be under the responsibility of unemployed young people of the village.
The inhabitants of the local cooperative 'Louda Agadir' have taken care of the construction of the technical room, the trenches for the cables and pipes as well as the tank of about 20m³.
To power the 5.5kw (or 7.5 HP) pump, the installation of the 32 solar panels of 345 Wp and the inverter/frequency converter were installed by the local company, DIMADIS of Agadir, all supervised by our volunteer Freddy A. who went to the site at the end of March for the technical reception and of course, to share his expertise once again.
Thank you all for this great collaboration and thank you to Louacine for its generous welcome!
.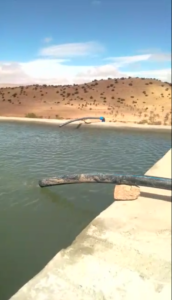 .