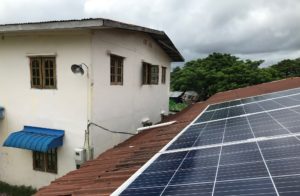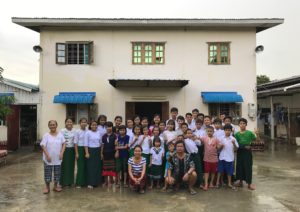 It is in Yangon, a city buzzing with life but also poverty, that we arrive on Sunday June 23rd for our mission in a temperature of 35°C, 85% humidity.
The objective is to install 8 photovoltaic panels of 236 Wp, a 3 kVA charger/inverter and 24 batteries to help an orphanage for 32 children during frequent power failures.
On the day of our arrival, we visit the orphanage and we realize that the situation is more complex than the one announced. There are 3 buildings whose electrical connections are interconnected without any logic, no color codes, no possibility of insulating the lighting, no ladder to access the roof, roof covering in rusty corrugated sheets and thinner than a cigarette leaf….
Fortunately, this city of 4.1 million inhabitants is full of shops: we find a ladder and various accessories for our mission.
At night, we have a well-defined plan to best satisfy the residents: we will provide emergency power to a building including the boys' dormitory and the orphanage manager's small apartment, and to power the lighting in the homework room located in another building. We plan to completely refurbish the lighting in the boys' dormitory and install two ceiling fans in the kitchen.
Five days later, everything was set up and operational with children happy to be able to study in the evening when it was dark everywhere else, following yet another power outage on the network.