For this new mission, our volunteers José B. Dominique T and Henri M. went first to Kilengi, a village of 1050 inhabitants. In June 2017, José B., accompanied by two other volunteers, Olivier D.R. and Patrick D., supplied the 3 buildings at Kilengi Hospital with solar energy. However, due to lack of correct information, the installation of the solar pump could not be finalized.
This installation was done this time, to the delight of the local people! School children in the village also took the opportunity to receive some explanations on this action: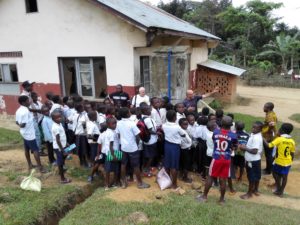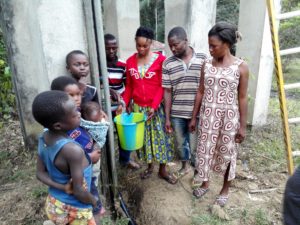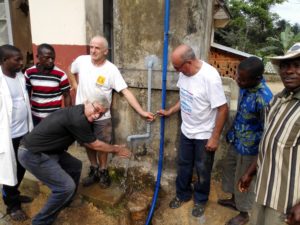 A long journey, strewn with pitfalls and breakdowns, was still waiting for our volunteers to join Kwilu Ngongo. It took them no less than 9 hours to cover the last 35 kms!
As the hospital suffered many power cuts from the SNEL (National Electricity Company), the mission was to carry out a photovoltaic installation to provide for emergencies. The network being four-phase and the solar possibility being single-phase, it was necessary to make choices!
Henri proposed to reserve a phase for emergencies. They « just » had to determine what was a priority and to connect it to the photovoltaic system. But, that was not so simple as all the existing installation was built and realized with only one color of cable!
A lot of other actions needed also to be done: to fix the solar panels on the roof, to lower the cables to the technical room, to install the earth cables, to connect everything to the inverter and the regulator and to connect the installation to the batteries.
Local staff were also trained in the proper use of this new facility!
At the end of this busy mission, our three volunteers have still had the opportunity to visit the outbuildings of the sugar mill and the brickyard, working with sugar cane residues!
Thanks to José B., Dominique T. and Henri M. for their dedication and this amazing achievement.