As travel are limited by the Covid-19 crisis, Energy Assistance carried out a new mission in Brussels.
The house Reine Marie-Henriette, in Brussels, also known as "La Flèche", welcomes and helps children from families in great difficulties.
A team of 4 volunteers, assisted by our General Manager, realized a secure lighting in the outside areas such as the playgrounds, the garden, the patio, etc. The system implemented allows lighting to vary according to the presence or absence of children, thus reducing light pollution and saving energy.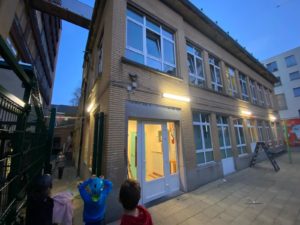 This transition from shadow to light took place under a beautiful November sky, surrounded by children playing on bicycles and roller skates – always at a good distance.
Thanks to our volunteers Steve B., Xavier S., Arno V. and Haithem M. and our general manager Tony M. (from ENGIE Benelux, ENGIE Solutions, and Nuyts).