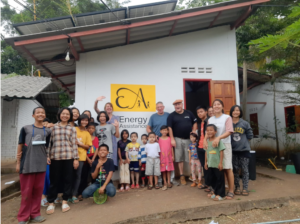 On November 10, 2022, our three volunteers Jacques T., Georges D.M. and Julie T. arrived in Umphang for the realization of photovoltaic installations in the boys' orphanage and in the central building and also in the school-farm a few kilometers away.
The first step was to check the photovoltaic installation at the girls' orphanage, realized in 2020 by Jacques T. and Georges D.M. It works perfectly!
After receiving and checking the solar equipment and accessories, supplied by a local company, and after a fine-tuning with the beneficiary of the work to be done, our volunteers happily set to work with many local helpers, including a painter who decorated the wall of the orphanage with our logo!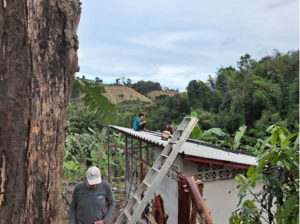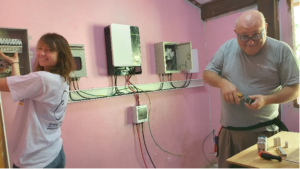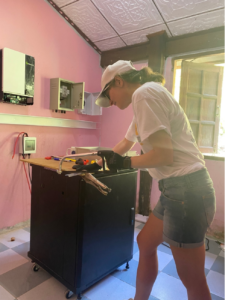 The installation delivers a power of 5kVA and allows in particular the lighting and the supply of electricity to the orphanage welcoming about thirty boys. The orphanage is located a few kilometers from Burma. As a result, most of the children are Burmese refugees having lost their parents due to the repression of the Burmese military junta.
The farm, used mainly to supply the orphanage with fruit and vegetables and to house the farmer and his family, benefits from a photovoltaic installation with a power of 3 kVA. This installation provides them with electricity and will soon be used to extend the farm's activities to livestock.
.     
Our volunteers have, of course, taken the time to inform the beneficiaries of good practices to ensure the sustainability of the installation.
Thanks to Jacques, Georges and Julie for their dedication during this beautiful mission as well as to the project manager Jacques H.